LUCA CENTONI official web site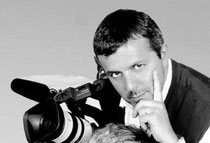 Born in Tuscany in 1965, Livorno, Italy he started as photographer at the age of 12th and  grew up as filmaker since 20th years old. He directed over 82 movies  and produced 7 Television Series for italian national & private TV (Rai - Mediaset - Tele+) and several international network such as SKY, BBC 1, France 2, FOX. He works since 2009 for "Travelscore" a web international editorial group. At this time he also works for "Web Icon" a Service & Media Solutions Platform Company which is oriented to the actual and future trends of the communication and customized services.
 As Journalist he wrote a considerable variety of articles and interviews to VIP for international magazines, he is also a reviewer of wine & gourmet guides.